Shallow Water Blackout Prevention is pleased to announce the kick-off of its new Ambassador Program. This Program is designed for volunteers who have a desire to help raise awareness about Shallow Water Blackout (Hypoxic Blackout) and our organization around the country. We provide the materials for them to distribute within their community and serve as a resource to answer any questions raised by those with whom they connect.
If you would like to learn more about becoming an Ambassador, please contact us at: [email protected]
Benjy lives in Fort Lauderdale, Florida and will turn sixteen in September. During a meeting with Benjy and his parents and grandparents, who were deeply involved in attempting to revive our Executive Director's son after a Shallow Water Blackout, he asked if he could become involved with our cause. This became the impetus for creating the Ambassador Program. As part of his Community Service requirement for High School graduation Benjy will be distributing our informational / educational materials to local SCUBA and Dive Shops and other water-related entities within his community. He will also be making his contacts aware of our organization. Raising awareness about SWB will be his mission. Fort Lauderdale, located in Broward county ranks number one in the US for unintentional drownings where SWB is often associated.
Benjy enjoys fishing with his father, spending the summers with his grandparents in the Bahamas and boating; he received his Boaters License when he was fourteen. He loves music, plays the drums and according to his mother he just cannot get enough of being outside. We look forward to working with Benjy.
"As I sit and begin to write about myself, I cannot help but to think of our beloved Papa. Our family raised nine cousins as if we were nine brothers and sisters, an unbreakable bond which makes his absence unbearable and at times hard to breath.
In the summer of July 2016, Ruben "Papa" was spearfishing when he had a free diving accident as the result of Shallow Water Blackout. I, nor most of the members in my family had no idea what SWB was, all we knew was that our Papa passed away doing what he loved most. Googling SWB to get a better understanding, I came across the prevention website where I was privileged to meet Dean Haller. I could not imagine in what state of mind I would be in if it had not been for the constant love and support he has shown and given to our family. Unfortunately, the deaths of our loved ones brought us together but it has also taught us that through the toughest storms eventually we will see sunlight.
As a preschool teacher, I have dedicated my life to helping others raise their children. Instill in them the techniques needed to survive in this world, it came natural when I also felt that I needed and wanted to be part of the swb organization. I would never want anyone to stop from doing what they love, papa would never approve. But instead spread awareness, comfort families and continue to tell Papa's story because it deserves to be told. He never took a single day for granted, he was 29 years young and I think he lived more in such a short time then any of us will ever if we make it that far. I have high hopes that someone will/has come across papa's story and thinks twice or at least has a better understanding of the caution you should always have when free diving. He always looked out for everyone and always shared info and safety tips when it came to all the insane adventures he went on. As tragic as his death is and will forever be, it's a tough lesson that we all have to learn that even the best, most cautious, selfless souls can meet their demise, no matter what. No family should ever have to say farewell to someone that still had so much to live for and so much promise in his future. I'd like to think he's one of the great ones that was chosen to leave his life although unfinished but fully fulfilled to the eternal paradise which for him would be reggae music, unlimited coronas, and fishing all day long.
To all the free divers and swimmers out there and their families, always take Papa with you as a constant reminder that every breath is worth coming up
for." -Amanda Balius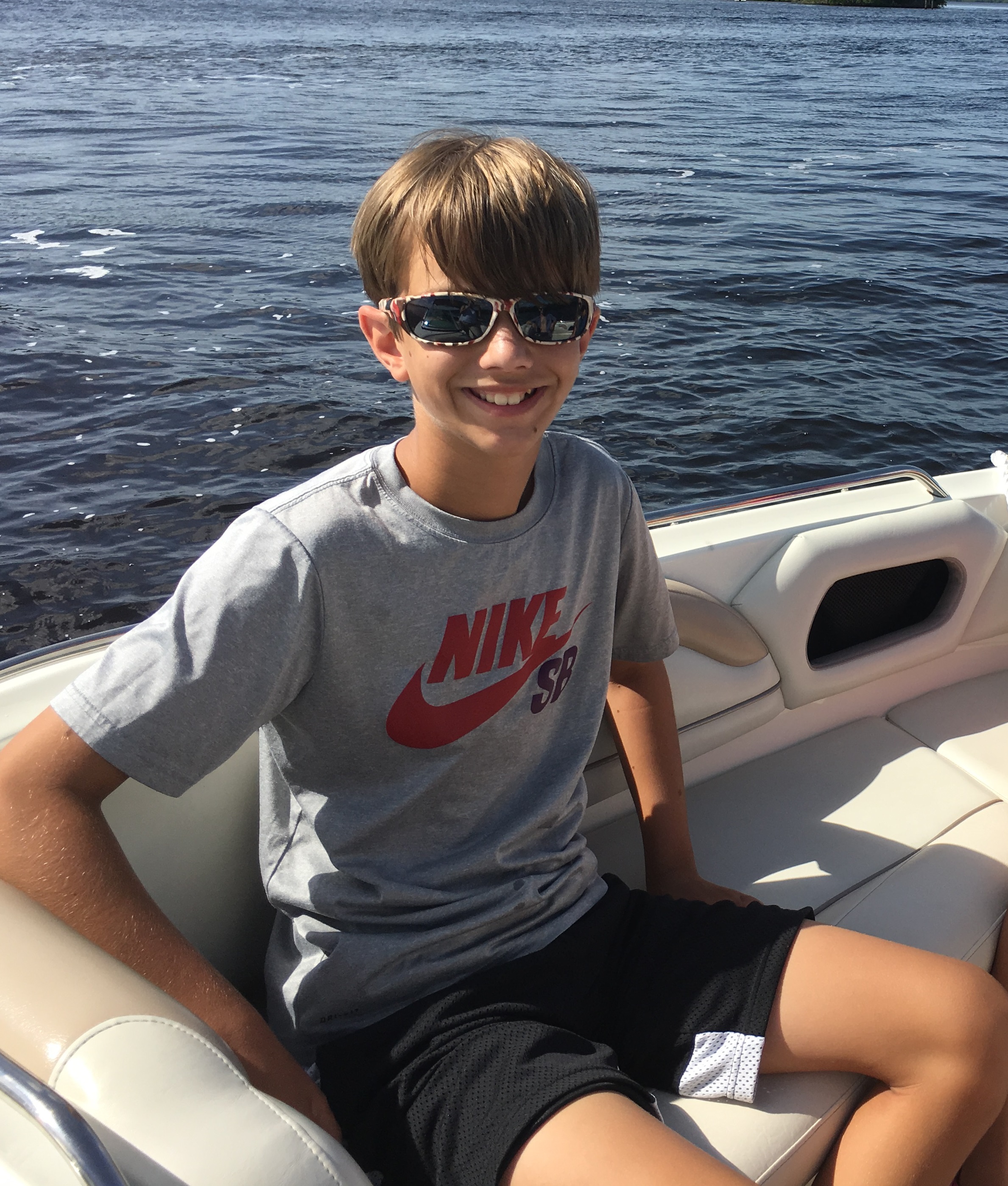 Editor's Note: On May 5, 2017, we shared a story on our Blog written by Teresa LaMear, the mother of a Shallow Water Blackout survivor, Reagan LaMear. Teresa's beautifully written story had a happier ending than many Shallow Water Blackout incidents thanks to Reagan's best friend, Clayton, whose quick thinking, and heroic actions saved Reagan's life. Click here to read Teresa's full story.
Because of Reagan's experience he has asked to become a Shallow Water Blackout Ambassador and we are honored to have him help us raise awareness.
Reagan is 13 and going into 8th grade at St Andrews Catholic School in Cape Coral, FL. He enjoys playing soccer and basketball for his school. He has played many years of baseball and tennis also, and tying golf this summer. Reagan spends a lot of time boating with his family and fishing with friends. He has a wide range of knowledge and great passion for the Ancient Era- specifically Greece and Rome. He takes piano and guitar lessons and recently got his first electric guitar for his birthday.
Born and raised in South Florida. Darren spent the majority of his life near the water. His father , Daniel Harrity, was a star swimmer in high school and trained Darren to swim at a young age. His mother's sister, Karen Baker, also taught Darren to surf before he could even ride a bike. Once in high school Darren joined the year round swim and water polo teams in his hometown. During his senior year at Oviedo High School he was awarded All American honors in water polo. He went on to swim for a year of college for Florida Atlantic University.
In his second year of school he started to think about joining the Coast Guard. It was always on his mind as a career choice after seeing Rescue Swimmers being hoisted down to the roof tops during hurricane Katrina. One afternoon while training at his colleges Olympic size swimming pool, Darren experienced shallow water blackout while doing 50 meter under-waters. According to the police report he was laying at the bottom of the pool when a master swimmer who was in the lane next to him realized something was wrong and pulled Darren out. The lifeguard came over and felt no pulse, and gave two cycles of CPR. They were then able to feel a weak pulse. The paramedics rushed him to the hospital where they kept him in an induced coma for 5 days. Darren's lungs were full of water and they did multiple brain scans looking for any kind of brain damage since it was estimated he was submerged for over 4 minutes. The scans came back negative and he was taken out from his induced coma and released 5 days later.
After a year of recovery he finally took the step and joined the Coast Guard in the hopes of becoming a Aviation Survival Technician aka helicopter rescue swimmer. Darren says it was somewhat of an internal battle to get right back in the pool and do exactly what caused his SWB in order to accomplish his dream. However, because of the SWB experience He felt he had more of a connection and respect for the water and preached this respect to his fellow swimming and spearfishing buddies. To never do these "water confidence" drills alone and without letting a lifeguard or instructor know what their intentions were. He continues to tell young men and women who come with questions on how to train to become an AST, what SWB is and the dangers it poses to them. Darren is now a Second Class AST with 10 years in the CG and currently stationed in North Carolina.
Darren's wife, Chelsey, is the head coach at their local YMCA. Darren says that she is his biggest supporter and motivation to continue helping people in and out of the water.
I am Alexandra Beran, a sophomore at the University of Richmond and a diver on the varsity Swim and Dive Team. I am also participating in the Army ROTC Program. I lost a friend to shallow water blackout this past summer and I am a lifeguard and aware of shallow water blackouts, but I still didn't realize how grave the consequences of prolonged breath-holding can be even with breath-control training for the military and swim teams. I want to raise awareness and educate others to prevent these senseless deaths. Many people question how an adult who knows how to swim can drown. Consequently, I want to help those who lost loved ones from having to explain over and over how drowning after a shallow water blackout occurs by educating as many people as I can. Most people do not understand that the victim lost consciousness and then the body forced a breath, which caused the drowning. Anybody who goes into the water should be aware of shallow water blackouts and what causes one and how to prevent one for their own safety, the safety of others, and understanding of those who lost loved ones.
I am from Puerto Rico and the youngest of four siblings. I was fortunate to enjoy a very active and privileged life contrary to my other siblings who endured the challenges of leaving communist Cuba at young age. After more than 18 years in exile from Cuba, my parents were finally enjoying the American dream of possibilities and prosperity. They helped me pursue an education abroad here in the United States, and now I enjoy a career in communications. Given my talents in the communications field, I feet it is my obligation to help others to learn about Shallow Water Blackout, specially among Latino families.
Our family lost my nephew, Eduardo Jose, at the young age of 19. He drowned in my home's backyard pool as he was playing water games holding his breath and challenging my son Daniel who at the time was only 7. Ironically, Eduardo Jose was actually taking care of my son Daniel, when this terrible accident happened.
Now 18 years later, after losing my sister Lourdes Alo ( Eduardo's mother) to lung disease, I decided to join the Shallow Water Blackout prevention organization to help generate awareness, and do this on behalf of my family. I live in Miami Lakes, FL and will be raising awareness in the surrounding communities and helping Shallow Water Blackout Prevention include content in Spanish.
Daniel, who is a musician now, wrote this song about drowning in memory of Eduardo. The name of the song is "Lungs Filled with Water".
Olivia Jackson will be joining her brother, Benjy Jackson, as co-ambassador in Fort Lauderdale, Florida. She along with her family witnessed attempts to retrieve and revive our Executive Director's son after a shallow water blackout.
Olivia is a high school student at American Heritage in Plantation Florida. She enjoys time with her friends and family living the Florida lifestyle. Her weekends are spent outdoors; boating, tubing and fishing. Her summers are spent in the Bahamas and at camp in Northern Canada where she is working on her Red Cross water certification.
We welcome Olivia to our team of national Ambassadors and sincerely appreciate their efforts to educate and raise awareness about Shallow Water Blackout and how to prevent it. You are all saving lives